Elizabeth Soccer - News
U19 Jaguars Champions!!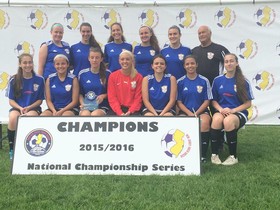 Our EYS U19 Jaguars have been crowned champions with an impressive 1-0 victory over East Coast Premier Soccer Academy. Jaguars goal was scored by Alexis.
When asked for comment Team Manager Giselia Mota indicated how proud the coaching staff and parents were of the girls. It was a tough season, with injuries and other commitments always keeping the number of available players down, but the team always stuck together and prevailed in the end.
The girls are already looking ahead to their next match on June 12th where they will play for the flight championship!
A big congratulations to the girls, the coaching staff and the team's supporters! All your hard work along the years has paid off!